Softrock40 Essemble 2
Softrock40 Essemble 2 sarja
Ensemble II USB-ohjauttu vastaanotin yhdistää Softrock 40 V6.3 sarjan, PA/suotimen ja USB liitännän (=softataajuussäätö).
Mitat: 127 *63mm piirilevy.
USB liitäntä ja USB:sta tehonsa saava VFO Si570 on opto- ja muuntajaeristettyjä RXTX piireistä Liitimet sopivat metallikoteloon.

Aluevalinta 160m, 80m/40m, 30m/20m/17m tai 15m/12m/10m tehdään rakennusvaiheessa.
RX Ensemble II on heti saatavilla-
RX Ensemble II kit voidaan rakentaa LF vastaanottimeksi 180 kHz -3.0 MHz tai HF vastanottimeksi 1.8 MHz - 30 MHz alueella .
Erona on jakajan kytkentä (75HC74) ja kelojen mitoitus.
Kaikki osat jomman kumman vastaanottimen rakentamisesi ovat mukana sarjoissa.
Sarjoja on saatavilla Suomesta, kysy omaasi omakutsulla Pekka oh3gdo
Katso kuvia alla
Vastaanotin
Aluesuodin
Osaluettelo:
Transeiveri sarjakin tulossa
SoftRock RXTX Ensemble Transceiver Kit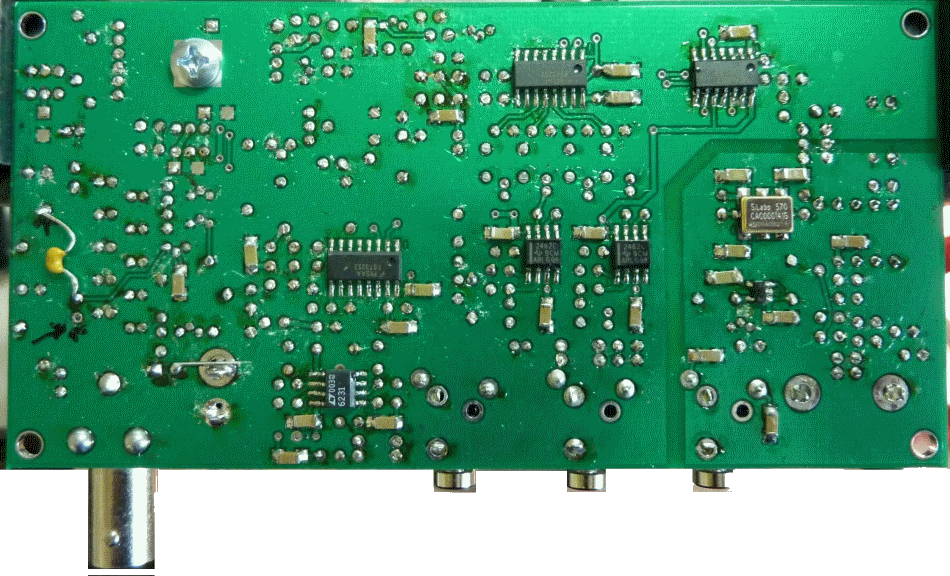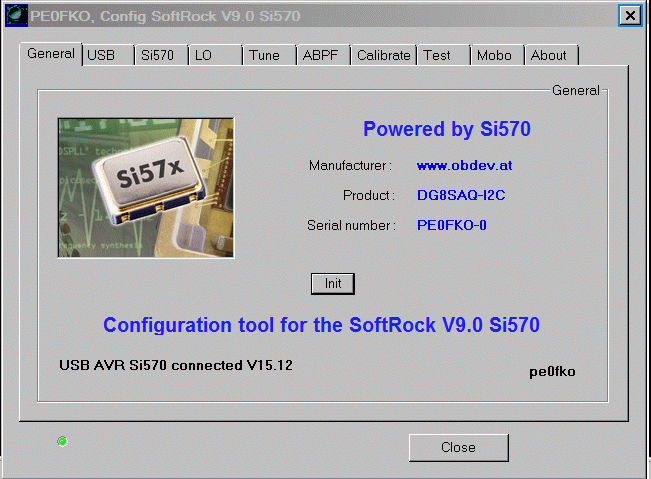 Ohjelma:
http://home.ict.nl/~fredkrom/pe0fko/CFGSR/
---
Kuinka Yuasu FT-450 liitetetään SOFTROCK 40 ?
if-2000 välitaajuus-kortin ulostuleva taajuus on 10.55Mhz
FT-450 radiossa on suoraan I ja Q annot.
Alla keskustelupalstalta löydetty kommentti:
Well, I finally worked up the courage to stick a soldering iron
inside my new FT450. Did it work? You Bet! I now can use all the SDR
programs by plugging the I and Q straight out of the FT450 onto the
sound card. For anyone that wants to try it, it does not effect the
normal operation of the rig, in fact you can listen on the rig and the
pc at the same time even on different frequencies. Just like the yaesu
DMU but a lot cheaper! Open the bottom of the rig, and find the 2 pads
marked TP2010 and TP2011, these are the 24Khz I and Q signals. Just
solder a shielded lead to these 2, and solder the shield to ground.
Plug into your soundcard and you are away!
VK4JWT
---
IF-2000 lisäkortin sivut
RFspace IF-2000 itekee lisäannon 10.55 MHz e Yaesu FT-2000 ja FT-950 radioihin . Tätä käytetään SDR-adapteiden kanssa.
http://www.universal-radio.com/catalog/hamhf/54320215.html

page revision: 34, last edited: 18 Aug 2010 08:34